Ultra low cost carrier Allegiant thrives through two unique approaches to the US travel market: Serving secondary and tertiary markets infrequently with point-to-point service and ancillary revenue tied to vacation package sales. But as it continues to grow the opportunities to serve more of the smaller markets start to disappear. For its Summer 2020 expansion Allegiant is adding 44 new routes and taking on three new big cities, though still doing its best to avoid direct competition.
There is a lot of leisure demand for cities that are regional destinations, and this route expansion will address some of that need. Also, this growth is about Allegiant being true to our mission as a company. We're increasing the number of low-cost, affordable travel options for people who may otherwise be priced out of air travel. – Drew Wells, Vice President of Planning and Revenue
---
---
Adding Houston Hobby (HOU) and Chicago Midway (MDW) airports theoretically brings the carrier into heavy competition with Southwest Airlines. But the routes Allegiant selected manage to avoid that problem. There are some routes that are close, like Hobby to Destin (VPS) versus Southwest's service to both Panama City Beach (ECP) and Pensacola (PNS). The Destin airport is about an hour drive from the other two.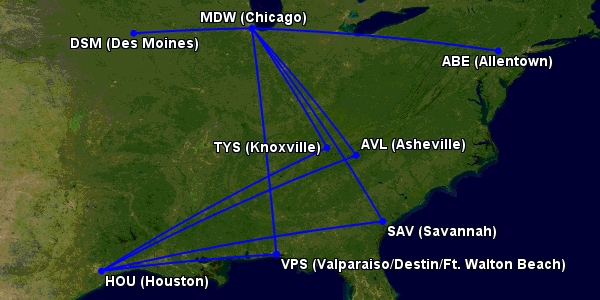 Similarly, the four new destinations at Boston Logan will be uniquely served by Allegiant, despite a strong presence from American Airlines, Delta Air Lines and JetBlue at the airport.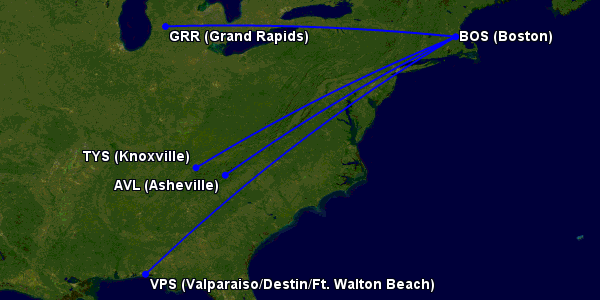 ---
---
Some big city love??
In many ways the expansion to larger cities matches the growth Southwest pursued as its growth stalled at the beginning of the 2000s. The carrier had traditionally avoided larger and busier airports, delivering passengers point-to-point across the country. But then expansion came at San Francisco, Los Angeles, and LaGuardia among others. That big airport expansion was jumpstarted by the acquisition of AirTran and the associated slots and gates at Reagan National Airport (DCA), Atlanta (ATL) and LaGuardia.
Allegiant is not pushing that strongly into these larger cities and is maintaining the infrequency of service (all the new routes are summer seasonal and 2x weekly) targeting leisure and package purchasing passengers. Still, there are some parallels in the approach that are worth paying attention to as the company continues to expand.
---
A favor to ask while you're here...
Did you enjoy the content? Or learn something useful? Or generally just think this is the type of story you'd like to see more of? Consider supporting the site through a donation (any amount helps). It helps keep me independent and avoiding the credit card schlock.
---