Looking to get far away from England this winter but don't want to break the bank on flights? Lufthansa Group airlines Lufthansa, Austrian and Swiss launched their Anyway Travel Pass promotion this week, offering a discounted means to a guaranteed flight on your desired date of travel, so long as you don't care too much about the departure time or which of the three carriers you're flying on. The deal applies for departures from London-Heathrow (LHR), Birmingham (BHX) and Manchester (MAN) with 14 destinations available starting at £139 each way including all taxes.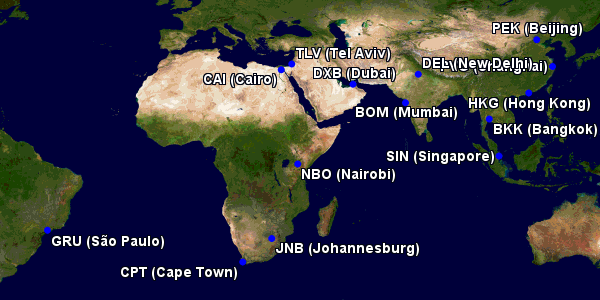 ---
---
With the Anyway Travel pass fares are fixed at one of four price points, depending on the destination:
Tel Aviv, Cairo: GBP 139
Delhi, Mumbai, Dubai: GBP 149
Bangkok, Nairobi, Shanghai, Beijing, Singapore, Hong Kong: GBP 199
Cape Town, Johannesburg, Sao Paulo: GBP 249
These fares are each way and available as either a one-way ticket or a round-trip purchase. But they are only available departing the UK. Passengers cannot purchase a one-way ticket away and then later decide they want a discounted return fare. Other than that the dates are slightly limited but the restrictions are relatively few. Except that you won't know which of the three airlines you're flying on until 48 hours prior to the trip.
Searching out particular destinations or dates can help narrow the field. The pass guarantees a single connection itinerary in Zurich, Frankfurt, Munich or Vienna and not all destinations are served by all three partners daily. Manchester to Shanghai is likely to be one of these three options, for example.
---
---
Beyond that the tickets are mileage-earning (though likely at very low levels given the low fare class) and eligible for upgrades (though likely more difficult within 48 hours of departure).
For travelers booking a return trip the savings may or may not be significant. For a one-way trip, however, the likelihood of significant savings is very real. That 199 pound trip on one of just a few possible routings is far better than paying the 1200+ pounds for the certainty of a particular flight in most cases. And even other one-way trips are generally more expensive.
The deal is also a great way for the airlines to lock in some passengers on connecting routes during relatively low seasonal demand, especially given that the inventory controls remain flexible so close to departure. It is complicated to manage on the back end but as the airlines all streamline operations for revenue and inventory management this sort of arrangement becomes a smoother play.
---
A favor to ask while you're here...
Did you enjoy the content? Or learn something useful? Or generally just think this is the type of story you'd like to see more of? Consider supporting the site through a donation (any amount helps). It helps keep me independent and avoiding the credit card schlock.
---