India's largest domestic carrier plans to continue it meteoric growth pace. The carrier announced an order for 300 more A320neo family aircraft. This latest order contains a mix of A320neo, A321neo and A321XLR planes. With the new order the carrier's total book with Airbus reaches 730 frames.
This order is an important milestone, as it reiterates our mission of strengthening air connectivity in India, which will in turn boost economic growth and mobility. India is expected to continue with its strong aviation growth and we are well on our way to build the world's best air transportation system, to serve more customers and deliver on our promise of providing low fares and a courteous, hassle free experience to them.

– Ronojoy Dutta, Chief Executive Officer of IndiGo
---
---
Not only does the move allow the carrier to grow its capacity within India, but the mix of aircraft types will allow for significant international expansion, subject to the availability of route authorities at foreign destinations. India is more protective than not of its aviation economy which has led to some markets being significantly limited in terms of access. Still, the 321XLR's 4,700 nautical mile range opens up potential from Europe to Japan and Korea, as well as large sections of Africa.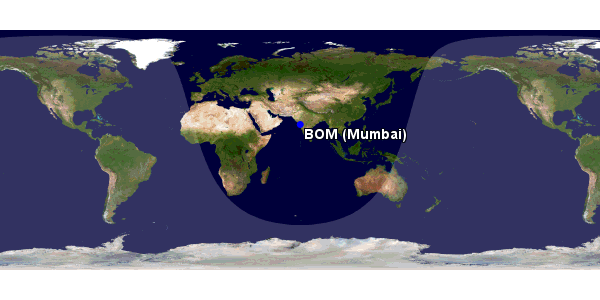 It remains to be seen what tolerance the Indian market has for longer haul operations on a single-aisle aircraft. Service to Istanbul, at the edge of the current aircraft's range, has not proven as reliable or satisfactory to the consumer as initially hoped. Still, the Indian market continues to expand rapidly, in spite of the Jet Airways insolvency. Its rise to become the third largest aviation market in the coming years remains on track. Orders like this one help fuel that growth.
Is IndiGo the Southwest Airlines of India?
The massive order book also raises interesting comparisons when it comes to the size of the fleet and remaining an operator of a single aircraft type. Southwest Airlines operates more than 700 Boeing 737 family planes. The new IndiGo order propels it to a nearly similar size and scope of operations. But IndiGo also does not expect to operate a fleet of 700+ A320 family planes with this order.
The carrier is aggressive about its fleet refresh cycle. Unlike Southwest that will routinely fly planes past 20 years, IndiGo focuses on a faster turnover. This helps reduce long-term maintenance costs, though that comes with an up-front capital expense. A vibrant secondary market for used aircraft is critical to the economics of these transactions. Just how that market will look in 5ish years when these orders start to roll through the final assembly lines at Airbus remains unclear. IndiGo currently operates 97 A320neo aircraft alongside 128 A320ceo frames.
Even with a significant portion of the planes working towards replacements, IndiGo does plan significant growth. And it could be the largest operator of an all A320 family fleet based on these numbers; easyJet will give it some competition depending on growth and retirement rates for the two. It will certainly be the largest single-aisle operator in India and likely the largest A320neo operator in the world.
---
---
Engine Selection?
Addressing the aircraft order, IndiGo's Chief Aircraft Acquisition and Financing Officer Riyaz Peermohamed indicated the company's focus on "lowering operating costs and delivering fuel efficiency with high standards of reliability." This was immediately followed by noting "The choice of engine manufacturer for this order will be made at a later date."
IndiGo was a launch customer for the Pratt & Whitney geared turbofan engine on the A320neo family, selecting it to power the early deliveries. Those engines faced problems, however, resulting in unexpected aircraft groundings and an accelerated replacement cycle. IndiGo made news earlier this year when it announced a switch to the CFM LEAP-1A for the next tranche of A320neo deliveries slated to begin in 2020. Such a switch is rare for an airline; commonality within the fleet typically drives operational efficiencies and lower costs. That IndiGo was willing to swap tells of the challenges the P&W engines presented. But if they can be truly resolved by the middle of next decade when these 300 planes start to arrive it may be possible for Pratt & Whitney to regain a foothold at the carrier. That competition is expected to be fierce.
Strength through Strife?
Another interesting consideration for the company and this order size is the timing relative to current internal struggles. The cofounders have been bickering around control of the organization since mid-2018, with the spat rolling into the public earlier in 2019. Significant debt for the company as it grows is part of the concern, as are "related party transactions" where companies associated with one of the founders received no-bid contracts to render services to the carrier.
This order could be seen as presenting a common front in the face of such struggles. Or just a distraction to keep the growth momentum pushing onward.
---
A favor to ask while you're here...
Did you enjoy the content? Or learn something useful? Or generally just think this is the type of story you'd like to see more of? Consider supporting the site through a donation (any amount helps). It helps keep me independent and avoiding the credit card schlock.
---