Spirit Airlines plans to fly between New York's LaGuardia Airport and Los Angeles beginning this summer, bringing transcon operations to LGA for the first time in more than a decade. The move is part of the carrier's expansion at LaGuardia, but also a much larger (or at least longer) story at LAX.
The new Spirit route launches in June and will only operate on Saturdays. The latter is a requirement based on the so-called "perimeter rule" that limits flights on the other 6 days to destinations within 1,500 miles, plus Denver. But it does not apply on Saturdays. Spirit will also fly to San Juan this summer using the exemption.
---
---
Perimeter-exempt flights are not new. Indeed, the LAX route was flown briefly by Delta Air Lines in 2006, also only on Saturdays. American Airlines operates to some ski destinations, for example. Continental Airlines once had flights to Aruba, taking advantage of that country's pre-clearance station for inbound immigration.
Key to the success (such as it was) of these routes was a leisure-focused customer base willing to take the week-long vacation. But the NYC-LA transcon market is different. Then again, so is the Spirit Airlines operation.
Most other airlines historically thrived on the premium cabin fares between the two cities. But there are plenty of leisure passengers making the trip as well. Plus, there are plenty of options for passengers to fly between the cities taking a connection on Spirit on other days of the week. Or to mix-and-match airlines and get a non-stop to JFK or Newark.
Besides, Spirit still tends to attract leisure customers in most markets, including this one.
---
---
More than just LaGuardia
While Spirit adding LaGuardia makes news because of the perimeter rule, the Los Angeles market has seen significant expansion in other, longer domestic markets in recent months. Spirit plans Milwaukee and Louisville as new routes from LAX.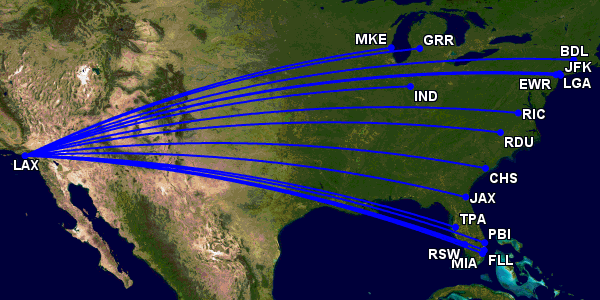 JetBlue announced flights to Charleston, Palm Beach, Raleigh-Durham, and Richmond, all launching in December 2020. Jacksonville and Miami, Florida followed, as did Hartford, Connecticut. And there was the Newark add earlier in the pandemic.
Alaska Airlines got in on the game as well, adding Tampa and Fort Myers, Florida. United Airlines plans to bring back JFK service.
Allegiant is adding Grand Rapids and Indianapolis to its LAX portfolio. Delta and American both added Fort Lauderdale flights.
And there are several longer international flights to Central America now in the schedules, too.
Diversity drives demand
It helps that LAX is a competitive major airport. No one airline dominates and many consider it a hub, meaning the onward connection options help to fill the planes in these smaller markets. A reshaped market also helps. Passengers appear keen on skipping hub connections where possible, and these markets just might be able to support the new flights. In many cases the flights are less than daily service. While that's not as useful for business travelers, it can appeal greatly to a leisure customer, assuming the fare premium isn't too great to offset the time saved.
Some of these markets are simply airlines swapping out. Southwest dropped Milwaukee, Tampa and Indianapolis, to be replaced by Spirit, Alaska Airlines and Allegiant, respectively.
Secondary market flights used to focus more on shorter haul.  But route planners are now showing a willingness to risk a bit more on longer flights to Los Angeles, overflying connecting hubs. And not even as less appealing redeye flights, typically operated for improved aircraft utilization, not for passenger comfort. At least not all of them.
If these stick as the pandemic ends it could portend a dramatic shift in the overall domestic market, especially if it spreads to other major destinations.
---
A favor to ask while you're here...
Did you enjoy the content? Or learn something useful? Or generally just think this is the type of story you'd like to see more of? Consider supporting the site through a donation (any amount helps). It helps keep me independent and avoiding the credit card schlock.
---