By the time Summer 2022 rolls around United Airlines will serve more transatlantic destinations than ever in its history. The carrier announced five new transatlantic markets this week, plus increased service to another five. The company will also finally launch seven routes waylaid by the pandemic.
Why now? We're confident in vaccine proliferation across the globe…and once the Biden administration opens up the borders we are confident the bookings will be there.

– Patrick Quayle, SVP of international network and alliances at United
---
---
The expansion is, to SVP of international network and alliances Patrick Quayle, a natural progression of growth for the company. It is a path United started down in 2017, he notes, and the company makes sure to have a bit of fun when picking the next en vogue destinations for US travelers to explore.
Observing that United currently operates the largest transatlantic, transpacific, and US-Central America networks, he also asserts that the airline "really is the flag carrier of the United States." No doubt the airline with the US flag actually painted on its tails will take issue with that claim.
Quayle also suggests that the company does not expect any staffing issues with delivering the service next year. United's growth has been more gradual than others in the US market as it continues to take a conservative approach. He also noted that United was first to reach an agreement with unions about staffing early in the pandemic, and that the relationship and coordination will continue to be strong, "so we don't have snafus" as the network grows.
---
---
MAX across the ocean
Most interesting of the new routes is United's new daily service from Newark to Ponta Delgada, in the Azores. This will be United's first foray into the Atlantic with its 737 MAX fleet.
The MAX 8, featuring the new Signature Interior with HD screens at every seat and Bluetooth headphones pairing, will operate the new route.
Quayle points out that the flight from Newark is akin to a domestic transcon, just 11 miles longer than a flight to San Francisco. More significantly, however, the type of traffic would not support the premium Polaris product. "It's more of a VFR (visiting friends & relatives), backpacker, and ethnic traffic, so there's not much demand for lie-flat seats."
This will be the longest currently published United route on the MAX 8 at 2,576 miles, though not even in the top 100 globally per OAG filings.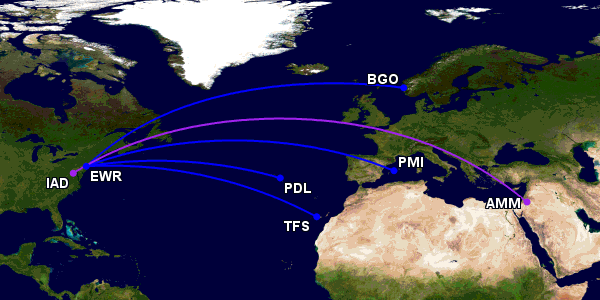 Additional transatlantic markets
Newark is the big winner with the expansion, adding three other new markets for the summer. Bergen, Norway (May 20) and Tenerife (June 9) in Spain's Canary Islands will each see thrice weekly service on the 757-200.
Palma de Mallorca in the Balearic Islands joins the route network on June 2, also with service 3x weekly. That flight will operate on a 767-300ER.
Separately, United will add 3x weekly service from Dulles to Amman, Jordan. It is a market Patrick Quayle describes as ripe for tourism growth. The political connection of the two capitals is also significant.
Expanding existing cities
Berlin, Munich, and Milan are already on the United route map. Each will see expanded service next summer, however, with an additional US gateway.
Denver to Munich, Dulles to Berlin, and O'Hare to Milan will all operate daily beginning next Spring.
Newark will also add a second daily frequency to Rome and Dublin as it ramps up capacity for next summer.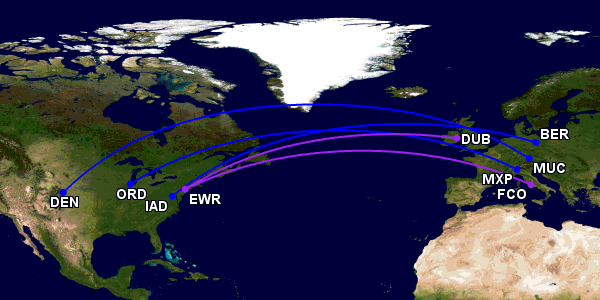 Finishing the prior plans
Finally, United also indicated that seven previously announced markets will launch next year, all delayed by the pandemic. They are:
Daily flights between San Francisco and Bangalore beginning May 26
Daily flights between New York/Newark and Nice beginning April 29
A second daily flight between New York/Newark and Frankfurt beginning April 23
Daily flights between Chicago and Zurich beginning April 23
Flights from Washington, D.C., Los Angeles and New York/Newark to Tokyo's Haneda
airport by March 26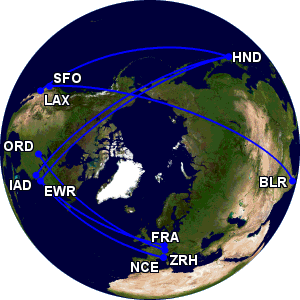 Interestingly, United also won a slot to move O'Hare service to Haneda. That was not listed among the markets shifting in Spring '22. That route previously commenced operation (thank to the comments for pointing that out!).
Cuts as well
The growth is tempered but a small number of cuts in the TATL market. San Francisco will no longer see Dublin service. Newark will no loner operate flights to Glasgow and Manchester.
Those last two are especially interesting given their rumored state on JetBlue's potential Summer '22 map from JFK.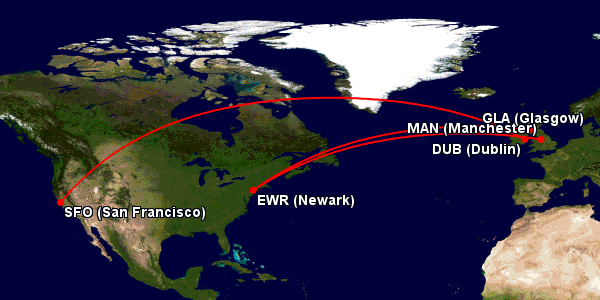 ---
A favor to ask while you're here...
Did you enjoy the content? Or learn something useful? Or generally just think this is the type of story you'd like to see more of? Consider supporting the site through a donation (any amount helps). It helps keep me independent and avoiding the credit card schlock.
---