Delta Air Lines and United Airlines came home the big winners in the most recent allocation of coveted route authorities at Tokyo's Haneda International Airport. The pair combined for nine of the twelve available slots, with American Airlines and Hawaiian Airlines picking up the other three. The new flights should begin operation in Summer 2020.
From a passenger perspective Los Angeles and Honolulu are the big winners. Significant competition in those markets should help keep fares down as the airlines battle for share. Especially in Los Angeles, where none of the three US carriers holds a major share advantage over the others, aggressive behavior seems likely.
---
---
Here's how the allocations break down by airline, pretty close to what was predicted from the initial applications in February.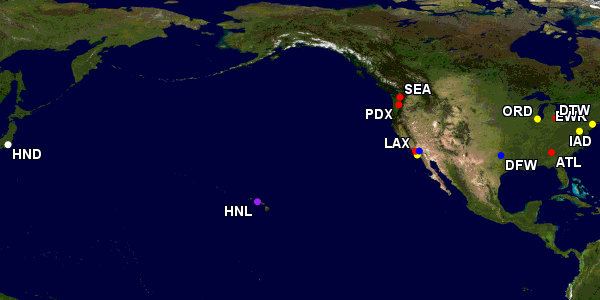 Delta Air Lines
Delta's five slots are enough for the carrier to shift all of its US-Tokyo traffic out of Narita Airport. The carrier has spent the past few years pressing the US DoT to allow for a consolidated operation at Haneda given its lack of partners in the Japan market. It appears that will now come to fruition.
Delta was awarded five of the six flights it applied for. Flights will soon be added from Seattle, Detroit, Atlanta, Portland and Honolulu to Haneda. The only miss was a second Honolulu frequency that was not granted. Delta already operates from Minneapolis and Los Angeles to Haneda.
Northwest Airlines operated a significant hub at Narita for decades but that has slowly eroded over the past decade as more aircraft and foreign route authorities were available to overfly Tokyo and deliver nonstop services. Combine that with the recent Delta-Korean Air joint venture that will route connecting traffic via Seoul's Incheon Airport and the need for a Delta hub in Tokyo disappears.
---
---
United Air Lines
United Airlines picked up four slots in the proceedings, allowing it to add service from its hubs at Newark, O'Hare, Dulles and Los Angeles. United's last two requests were for flights from Houston and Guam; neither was awarded. The carrier already operates a San Francisco-Haneda service.
Unlike Delta's application United intends to use its new slots in part to add additional flights rather than just moving its operations. United will establish additional frequencies from its Newark and Los Angeles hubs while shifting the Chicago and Washington flights.
Thanks to the significant ANA presence at Haneda and the transpacific joint venture from those two carriers the onward connection opportunities in Japan thanks to the new Haneda services will be significant.
American Airlines
American Airlines had the most interesting route listed in its application, hoping to add a 787-8 from Las Vegas to Haneda. That was also the carrier's fourth priority in its application and never really stood a chance of succeeding. Not surprisingly that proved true. American did pick up a pair of slots however, allowing it to add a second daily flight from Los Angeles (it holds one frequency on that route today) while also adding a DFW-Haneda service. Similar to United, American has a joint venture in Japan with JAL. The onward connections are not quite as strong given JAL's smaller size, but the Haneda route should help boost some of that traffic.
Hawaiian Airlines
Finally, Hawaiian was awarded one of the three daily incremental flights it requested from Honolulu. It operates one daily Honolulu service today, plus a less desirable night flight split between Kona and Honolulu). Getting to quadruple its service always seemed unlikely, but Honolulu is the only viable market for the carrier to add in this round of applications.
Hawaiian also faces a significant increase in competition as ANA launches its A380 service later this month on the Tokyo-Honolulu route. Fortunately a pending joint venture with JAL should help feed additional traffic for Hawaiian, but that route is likely to remain low yielding.
---
A favor to ask while you're here...
Did you enjoy the content? Or learn something useful? Or generally just think this is the type of story you'd like to see more of? Consider supporting the site through a donation (any amount helps). It helps keep me independent and avoiding the credit card schlock.
---