With a dozen new, highly coveted slots available at Tokyo's Haneda Airport for next summer the four US long-haul airlines all want to grow their share of that market. The combined applications from American Airlines, Delta Air Lines, Hawaiian Airlines and United Airlines total 19 newly desired flights. So, who wants what, and who is likely to win?
---
---
Hawaiian wants Honolulu
Hawaiian Airlines is the smallest of the airlines requesting slots and is also asking for the fewest. The carrier wants to add three more flights daily between Haneda and Honolulu, joining the one slot the airline already has on that route (plus the night slot split between Honolulu and Kona) . Yes, that is a massive increase in capacity in the market. And it would join a year after ANA brings the A380 into service on the the Tokyo-Narita to Honolulu route, a move that further increases capacity. But the city pair is also the largest by passenger numbers of any applied for.
Hawaiian hopes to receive antitrust immunization for its joint venture with JAL in the near future. Combining that with additional slots would permit for a boost in the nonstop traffic carried but also increase the onward connection options, especially to other airports in Japan. Hawaiian is not the only carrier to call attention to such potential and it seems likely that the US Department of Transportation will give sizable consideration to such connecting traffic based on prior slot awards.
American hopes for doubles
American Airlines wants four slots at Haneda from this allocation, with Los Angeles, Dallas-Fort Worth (2x) and Las Vegas as its desired gateways.
The Las Vegas idea is an interesting one and should drive a certain amount of conversation. The service is proposed on a 787-8, the smallest of the planes American offers for the new services. It is also the fourth priority request from the carrier. Given that the slots are contested that makes it highly unlikely to materialize. The lack of connections at Las Vegas also raises questions about the commercial viability of the market. American's recent behavior in the Asian market, particularly around China, could also hurt its chances; indeed, United Airlines called out that lack of commitment to the Asian market in its application.
American's desire for twice daily service at its DFW hub as well as augmenting its existing LAX service with a second frequency for better time flexibility both show stronger merits in many ways. That DFW was the runner up in the prior round of allocations also speaks well to its potential to win in this round.
---
---
Delta's all in
Delta Air Lines wants six slots at Haneda, effectively allowing the carrier to move its full operations from Narita to the downtown airport. It also has no joint venture partner in Japan making all of its traffic dependent on Tokyo demand. In priority order, Delta requested flights from:
Its new Pacific gateway in Seattle;
Its long-time Asia gateway at Detroit;
Its global hub in Atlanta;
Portland, Oregon
A pair at Honolulu
For the first four airports the demand is relatively clear. Adding those to the existing Minneapolis and Los Angeles slots would remove Delta's need to operate at Narita. The pair of Honolulu slots are aimed at grabbing a share of that major tourism market. In all cases Delta focuses on competition against the UA/ANA and AA/JAL joint ventures. In the Hawaii market the carrier goes so far as to suggest that "Without access via Haneda, Delta could soon find itself fully shut out of the massive Tokyo-Honolulu market." While that statement contains a certain amount of hyperbole, the value of the Honolulu-Tokyo market is huge and Delta wants more of it.
Committing all of its Tokyo traffic to Haneda is also consistent with Delta's plans to grow its joint venture operations with Korean Air at Seoul. Without the onward connections Haneda becomes even more desirable of a destination for Tokyo traffic.
United's shift + lift
United Airlines also wants six slots at Haneda under the new allocations, with plans to grow in some markets and shift service in others. Also, unlike the other carriers, United only specified three priority groups, essentially bundling its preferences into groups rather than individual routes.
Add service from Newark while shifting existing Washington-Dulles and Chicago-O'Hare routes
Add service from Los Angeles
Add service from Guam while shifting service from Houston
United also plays up the connection opportunities at Haneda for its passengers, seeing those as a significant part of the value proposition for its requests. The carrier highlights nearly 40 domestic Japan airports that will add or improve connectivity to its hubs in the USA; 30 of the routes are not available as ANA connections from Narita.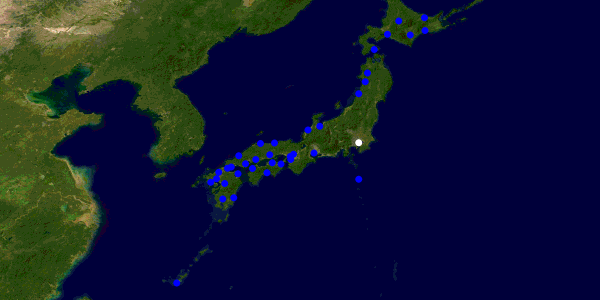 So, who wins??
With 19 requests for 12 slots it seems that all the airlines will go home short of their goals. At the same time, all should get at least some of the slots they requested. Because the airlines get to prioritize the options along with the DoT making decisions not all of the best or most interesting routes are likely to win. Vegas, for example, seems a long-shot given American's spotty commitment to Asia and it being the lowest priority of the four the carrier requested. And, while Delta would certainly love the pair of Haneda slots for Honolulu service those are its lowest priority and also unlikely to be granted, particularly with Hawaiian also asking for those routes.
Delta has recently complained about its slot allocations for Haneda, hoping to move one of them. That might also put the DoT off on granting more to the carrier. Still, it seems likely to secure three or four of the twelve available. Similarly, American is likely to get two or three slots allocated. United will likely see three or four with the remaining going to Hawaiian. That would result in significant competition growth at Los Angeles and multiple new gateways. It would also generally see an increase in lift between the US and Tokyo rather than a swap of services from Narita. The Japanese government certainly would prefer that (it has an unwritten rule "strongly suggesting" that airlines don't simply shift service) and for the US DoT the value to the traveling public is greater that way.
Expect the official answers from the DoT in a few weeks.
Header image: Inside Haneda Airport by Twang_Dunga via flickr/Creative Commons
---
A favor to ask while you're here...
Did you enjoy the content? Or learn something useful? Or generally just think this is the type of story you'd like to see more of? Consider supporting the site through a donation (any amount helps). It helps keep me independent and avoiding the credit card schlock.
---