What engine will power the next commercial supersonic jetliner? For Boom Supersonic it is all about finding the right core. CEO Blake Scholl spoke recently at the joint Wings Club/IATA Aviation Day USA event, sharing his vision for the return of supersonic commercial flight. But the big question – what engine will power the 55 seat, Mach 2.2 jet – was not touched in the presentation. After his time on stage Scholl acknowledged that the power plant remains a significant open item but also believes it is a relatively easy challenge to address.
Scholl expects to make a down-select on Boom airliner engine choice next year, choice between "derivative" of civil engine, or "clean-sheet design" #avgeek #DAS17

— Tim Robinson (@RAeSTimR) November 13, 2017
Three engine vendors are currently participating in process to potentially deliver Boom's new power plant. Scholl didn't specifically name them but w can assume that Rolls Royce, Pratt & Whitney and GE are the companies he's talking about. He also emphasized that the "core" of the engine ultimately selected will almost certainly be from an existing, in service commercial engine, "[T]here are multiple existing cores we can reuse." That's a massive savings in development costs and time as well as certification effort.
It is not a new technology engine, it is a new design engine. You've got knobs on an engine like bypass ratio and pressure ratio and they're set in certain places for the 787 and you want to set them in different places for this airplane. It is moving the knobs, it is not let's invent variable cycle or something that's never been certified before.
---
---
Using an existing core helps ease the process, but that doesn't mean it is easy. One need only look at the ongoing challenges with the A320neo engines to recognize that these newer designs, while more efficient and more powerful and quieter and otherwise amazing are also more complex systems than ever. Delivering the rock-solid, reliable product demanded of commercial air transport is not a trivial task and even just minor "tuning the knobs" of these designs can bring about significant challenges. Given Boom's stated plans of a certified aircraft operating in commercial service by 2023 any challenges are risky, but especially engine challenges.
Boeing is familiar with those challenges as well. With a stated goal of the 2025 timeframe for entry-in-service of the still-theoretical NMA aircraft Boeing also faces doubts from its potential airline customers about meeting that target. While delivering the new fuselage and wing should be relatively easy for the company – even with the ovoid body shape – the power plant is also a challenge for the NMA. Flight Global notes that those vendors are quiet about their possible participation in the Boeing project as well.
CFM International, Pratt and Whitney (P&W) and Rolls-Royce are all competing to supply engines to the NMA. CFM has not provided details of its proposed architecture, P&W plans a scaled up version of its geared turbofan (GTF) and Rolls-Royce the so-called UltraFan with a reduction gear. …

All three engine manufactuers are tight lipped about the status of their NMA engines that, coupled with some of the delays meeting deadlines for current aircraft programmes, raise questions about their ability to deliver on time for the proposed Boeing widebody.
---
---
Scholl also addressed the range challenges the current design faces. Capped at 4,500 nautical miles most transpacific routes require a refueling stop somewhere along the way. His travel time estimates – 5.5 hours between San Francisco and Tokyo, for example – account for those stops and he's already talking up possible locations to meet those needs.
It is not like you go to the gate and get off and back on or change planes. You land, the fuel truck comes, you taxi to the other end of the runway. It is like a pit stop.
Anchorage is a well suited waypoint for Tokyo or Seoul. It even covers Beijing, Shanghai and Taipei well enough. Hong Kong is a stretch too far, however. Anchorage is also very familiar with the "gas-and-go" business; the airport long served both passenger and cargo flights in that role. It will remain to be seen if US immigration policy can be adjusted to allow for the passengers to remain on board rather than clear at Anchorage as their point of entry to the US, though that's a very small issue many years away still.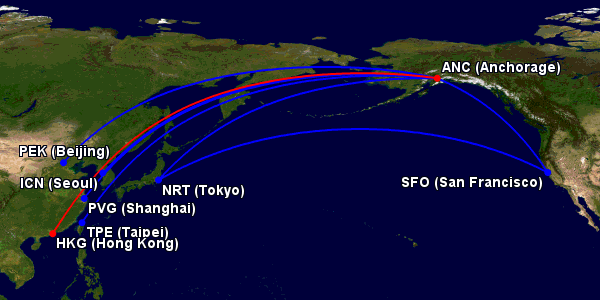 In the South Pacific Tahiti is well positioned to connect traffic between the US mainland and Australia. Honolulu offers a smaller diversion distance but sits on the edge of allowable range to Sydney and too far from Melbourne to work for the design spec.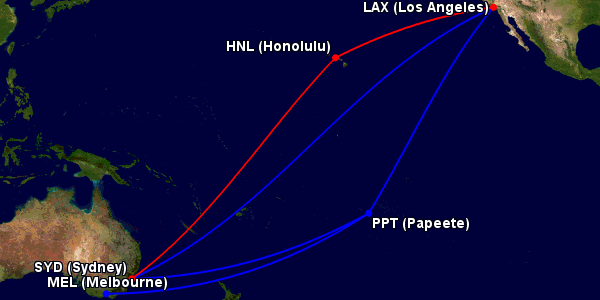 Would you rather have an 11 hour flight to Tokyo that doesn't refuel or 5.5 hours with a bump in the middle? I think a lot of passengers will choose the latter which is we we talk about doing those routes.
---
A favor to ask while you're here...
Did you enjoy the content? Or learn something useful? Or generally just think this is the type of story you'd like to see more of? Consider supporting the site through a donation (any amount helps). It helps keep me independent and avoiding the credit card schlock.
---