WOW Air is dead. Long live WOW Air. The Icelandic LCC is set to be purchased by hometown rival Icelandair at what can only be described as a fire sale price. The deal, announced today, will see WOW absorbed into the Icelandair Group but remain a separate brand, according to the disclosure posted this morning.
The Icelandair acquisition of WOW is interesting to me in two ways:
1) Only $18mm if I'm doing the math right, and $12mm of that could disappear if certain conditions are not met.
2) Will continue operating as separate businesses. Which is pretty stupid. #avgeek

— Seth Miller (@WandrMe) November 5, 2018
Questions around the long term financial viability of WOW are not new. Expectations of a deal for pennies on the dollar, however, were less clear. Today's deal price – shares opened at 8 ISK and spiked over 12.5 before settling at 11 ISK ($0.091/share) – comes in somewhere around $18-25 million. That's a bargain, even considering associated obligations. The share price spike suggests that the market is very happy to see a reduction in competition. Fares are likely to rise a bit faster than previously expected as a result.
Significant in the release is the split of share allocation. A third of the payment offsets conversion of debt to equity. The other two thirds covers the outstanding shares of privately held WOW, though that conversion rate is variable, "The consideration can increase to 4.8% or decrease to 0.0% in accordance with certain conditions set forth in the share purchase agreement." Exactly what those conditions are remain unclear but with performance targets and the potential for the acquisition costs to significantly decrease this deal looks even better for Icelandair.
---
---
Same, Same. But Different
Typically airline mergers focus on commonality and actions to reduce costs. Keeping separate brands, particularly in heavily overlapping markets, presents any number of challenges to that approach.
Summer 2018 was not kind to the pair in terms of profits. Icelandair cited "an imbalance between Europe flights and North America flights" that depressed revenues to the tune of $50-80 million. Combine that with higher fuel costs and the outlook is not particularly positive. In that context a $25 million deal to kill the competition is cheap. But absorbing the upstart into the Icelandair Group, realizing the synergies and efficiencies promised of mergers, will be an uphill battle.
The two carriers run dissimilar fleets, reducing integration value on that front. They also run very similar route networks. WOW adds Los Angeles, Cincinnati, Detroit and St. Louis on the US side of the Atlantic. St. Louis, Cincinnati and Cleveland were previously announced as being dropped from the 2019 schedule so the benefits are even less. WOW also did not commit on returning to JFK and Dallas in 2019, two destinations served by Icelandair.
The two carriers represent just under 4% of transatlantic capacity. They face significant competition from Norwegian in the LCC space. Legacy carriers also compete aggressively for market share, even at lower fares. The only way to recover some pricing power will be to trim capacity and routes, at least via Iceland.
---
---
Split Tiers
With two brands the opportunity arises for different service tiers, operating on separate aircraft. In some ways this was the approach the two carriers already pursued. Alas, the two are not really all that different. Icelandair's Saga Class is a strong Premium Economy offering but not a true business class. WOW does not offer a true Premium Economy product. And the Icelandair economy product is more generous in space and on-board amenities than the WOW equivalent. But success is rare for the airline-within-an-airline model. Even more telling, the few successes generally do not operate overlapping route maps.
New Hubs?
Perhaps the value proposition comes not from consolidation at Reykjavik but in splitting the WOW and Icelandair operations into separate hubs. Two potential targets for such a move are the Azores and Cape Verde Islands.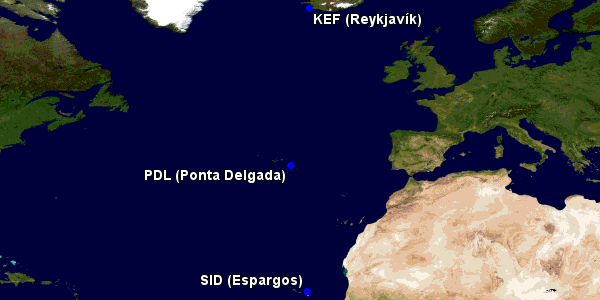 The parent group already secured the contract for management of TACV Cabo Verde Airlines and is in consideration for a stake in Azores Airways (formerly SATA). Repositioning the WOW fleet to spread the passenger flow could help improve yields across the network, especially as it distributes some local tourism to destinations outside Iceland.
New Range?
The A330s in the WOW fleet add range to the operation. Icelandair chose 767s (keeping with its Boeing fleet) for similar needs deeper into North America. But Icelandair never went past Western Europe. WOW pushed into Tel Aviv and Warsaw, with Delhi service on the horizon. The extended range breaks some of the efficiencies of the Icelandair model. Namely, the carrier focused on moving its aircraft from Continental Europe to North America and back in a 24 hour window, optimizing utilization. That already broke down with some west coast destinations. Integrating more twin aisle aircraft could help increase those options. But it comes at a cost. Fleet diversity is not cheap and the operational requirements are different for longer stage lengths.
WOW already faced challenges in its business model in Delhi, for example. Indian regulators insisted that passengers be given free water on board, something that WOW historically did not provide. That's a small change but shows the variety of issues the ULCC market can bring to bear. Demand in that market is also relatively low yield and the carrier already trimmed planned capacity once. With the route set to inaugurate next month many are skeptical of its potential for success, especially as it will compete directly with the ME3 in the US-India market.
---
A favor to ask while you're here...
Did you enjoy the content? Or learn something useful? Or generally just think this is the type of story you'd like to see more of? Consider supporting the site through a donation (any amount helps). It helps keep me independent and avoiding the credit card schlock.
---