Korean Airlines received an early Christmas present today from Bombardier. The airline took delivery of its first CSeries CS300 in a ceremony at Bombardier's manufacturing facility in Mirabel, Quebec, Canada. The new aircraft is expected to arrive in Seoul on December 25th with a second CS300 following it a week later. The carrier is the Asian launch customer for the CSeries, with 10 CS300s on order. The other eight deliveries are all currently slated for 2018.
The delivery date slipped from October to the end of the year because of ongoing issues with the Pratt & Whitney PW1500G engines. Similar issues have caused challenges for the CSeries program as well as the A320neo deliveries from Airbus. In service aircraft from Swiss and Air Baltic are also taking earlier than planned maintenance turns to address engine reliability challenges.
---
---
The delivery to Korean also marks a few firsts for the CSeries program. The aircraft is the first to operate with an ETOPS rating allowing longer overwater flights. It is unclear which routes require this configuration as nearly all destinations are no more than 60 minutes from a diversion airport, but the company has the extra facilities in place.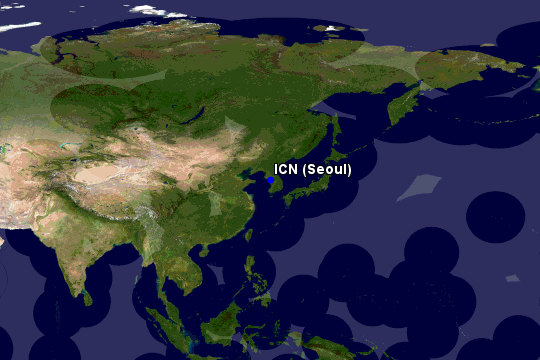 ---
---
The Korean CS300 also offers the most spacious layout of any CSeries flying today. The forward section offers 36″ pitch while economy class gets a generous 32″. And that comes on top of the cabin interior already offering wider seats than any single-aisle being delivered new today. Both Air Baltic and Swiss carry 145 seats on their CS300s; Korean will fly with only 127 seats on board.
Finally, Korean is the first CSeries operator to include in-seat power and wireless IFE on its aircraft. Details on what streaming media platform is installed remain scarce but the streaming IFE capabilities of the airframe are not especially new news. Delta Air Lines and Gogo announced earlier this year that Gogo Vision Touch would fly on the Delta CS100s. Those deliveries were initially planned for 2018 but may be delayed pending the outcome of a tariff battle launched by Boeing over the CSeries' development funding and Delta's purchase price.
The Gogo Vision Touch system is a hybrid solution, offering embedded tablets/screens at the seats but delivering content across a wireless network on the aircraft rather than traditional wired connections. For Delta it will operate on a secondary wireless network separate from the internet connectivity delivered to passengers. Korean is not taking a satellite-based connectivity option on its planes so no need for the second wifi network on board.
Header image: Korean CS300s at the Bombardier plant, courtesy of Bombardier
---
A favor to ask while you're here...
Did you enjoy the content? Or learn something useful? Or generally just think this is the type of story you'd like to see more of? Consider supporting the site through a donation (any amount helps). It helps keep me independent and avoiding the credit card schlock.
---