Airline route networks must adapt to shifting demand and long-haul operations are no exception. United Airlines is the latest player to make a move on that front, announcing seven routes today with service slated to launch between December and Summer 2021. The carrier will be reopening some destinations, expanding others and inaugurating a couple of markets never before served.
Now is the right time to take a bold step in evolving our global network to help our customers reconnect with friends, family and colleagues around the world. These new nonstop routes provide shorter travel times and convenient one-stop connections from across the United States, demonstrating United's continued innovative and forward-looking approach to rebuilding our network to meet the travel needs of our customers.

– Patrick Quayle, United's vice president of International Network and Alliances
---
---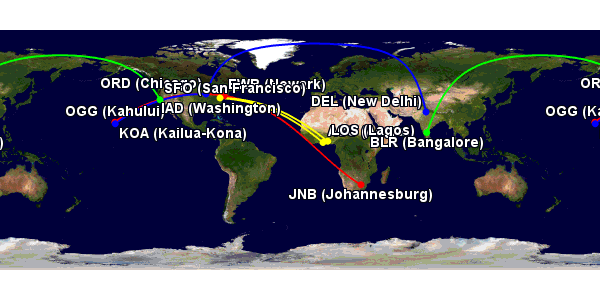 Three markets in Africa
United intends to launch three new routes to Africa in Spring 2021. The carrier will begin by adding daily service to Johannesburg from its Newark hub on the 787-9. While Delta Air Lines has historically been the only US carrier flying to Johannesburg its move to retire the 777s means the westbound flights will pit-stop in Cape Town on the way back to Atlanta. United has separate, seasonal flights to Cape Town and now the only nonstop option from Johannesburg to the USA. South African Airways has flown from Johannesburg to Dulles and JFK in recent years, including occasional nonstop service (or, more often, direct via Dakar) but the carrier's financial demise leaves it without the aircraft or money necessary for such operations currently.
United will also return to a pair of destinations in West Africa later in Spring 2021. The Dulles-Accra route previously operated from 2010 to 2012 and now returns thrice weekly on a 787-8. The carrier also previously served Lagos from its Houston hub. That route was explicitly planned for 787 service and now Lagos returns from Dulles on the 787-8 as well, also with 3x weekly flights.
The Lagos route should benefit from government traffic as United holds the GSA city pair contract for FY21, starting on 1 October 2020. Until the route launches it will serve the US government customers with connections via Europe. The other two routes are held by American Airlines (with its partners via Europe) and JetBlue (via Dubai on Emirates).
---
---
A pair of new India routes
United will add daily service between Chicago and Delhi in December 2020, making it the third US gateway with service to India's capital; Newark and San Francisco already offer flights. That news could be seen as a push against Air India, while the more interesting (and economically challenging) route comes as a direct challenge to American Airlines.
United will launch nonstop flights between San Francisco and Bangalore in Spring 2021. American previously announced plans to connect Bangalore to Seattle as part of is west coast mega-partnership with Alaska Airlines. Back in February American's Vasu Raja explained, "The real challenge is that the highest growth market for our customer base is Bangalore but Bangalore is so far beyond the reach of the 789 from any of our hubs. Indeed, there's only one market in the US that can serve Bangalore with reasonable payload and that's Seattle." The implication of payload restrictions from other markets, including San Francisco, is potentially borne out by the 787-9's operating characteristics at the "hot and high" 13,000 foot runway in Bangalore.
Needing to restrict 40,000 pounds of total capacity from the plane given runway conditions might not be so bad with prevailing winds. And a later departure time from Bangalore could help as cooler evening or overnight temperatures return some of that capacity. United also has plenty of operational data from its 787 flights to Singapore to help extract every last bit of performance on the Bangalore route.
American also made a big deal of connecting passengers from the Bay Area over Seattle on Alaska Airlines to the new international flights it would operate from the Pacific Northwest. With United offering nonstop competition some interesting market dynamics will certainly come into play.
Hawaii for the Summer
United also plans a pair of Summer 2021 routes to Hawaii. The carrier will return to the Kona-O'Hare market with a 4x weekly 787-8 trip while Newark to Maui will see its first nonstop flights. Those will also operate 4x weekly on a 767-300ER.
Unlike the blend of family and official travel for the West African destinations or the business draw of Bangalore, United is more clear that these routes focus on leisure markets. They also depend on Hawaii deciding to reopen for visitors from the mainland without quarantine restrictions in place, just like the international routes will depend on those borders being open, along with some demand returning.
---
A favor to ask while you're here...
Did you enjoy the content? Or learn something useful? Or generally just think this is the type of story you'd like to see more of? Consider supporting the site through a donation (any amount helps). It helps keep me independent and avoiding the credit card schlock.
---