Qantas is poised to return to New York City from mid-2023. But rather than connecting in Los Angeles, as was scheduled prior to the COVID-19 outbreak, passengers will now connect in Auckland before the 16 hour trip to JFK. The route will operate three times weekly on a 787-9 from 14 June, pending government approval.
We think this route will be very popular with Australians given the opportunity to connect via Auckland and it also gives New Zealanders more choice.

– Qantas CEO Alan Joyce
---
---
The shift to connecting in Auckland delivers better connections from more of Australia, according to CEO Alan Joyce. The carrier currently plans connections from Brisbane and Melbourne, along with the one-stop service from Sydney.
Joyce further suggested that the one stop service is likely to remain, even after the carrier launches nonstop flights as part of its "Project Sunrise" launch with the A350-1000 in 2025. That is a very optimistic view of demand for the New York – Australia market.
The prior LAX-JFK service also offered connections from those same three major Australian markets, and with similar total travel time. The revised schedule does avoid a connection in the United States, which is less convenient than the international-to-international transit in New Zealand.
It also allows the carrier to optimize its capacity into Los Angeles to focus on passengers headed to California and other nearby destinations on partners American Airlines or Alaska Airlines.
Joyce also cites the success of the London and Rome flights, and the more spacious cabins on the Qantas 787s compared to other airlines, as justifying the route. In competing against the current Air New Zealand layout, that observation holds. The new 787-9 cabin design from Air New Zealand, set to fly in 2024, will shift that conversation, however, especially with the introduction of the SkyNest sleeping pods for economy class travelers.
For those who cannot comprehend being offline for 16ish hours crossing the Pacific Ocean, the Air New Zealand fleet also offering inflight WiFi service, powered by Inmarsat's GX Aviation network. Qantas does not offer internet on its long-haul fleet.
It is worth noting that Air New Zealand will offer one-stop connectivity to New York from several more Australian cities over its Auckland hub than Qantas can deliver.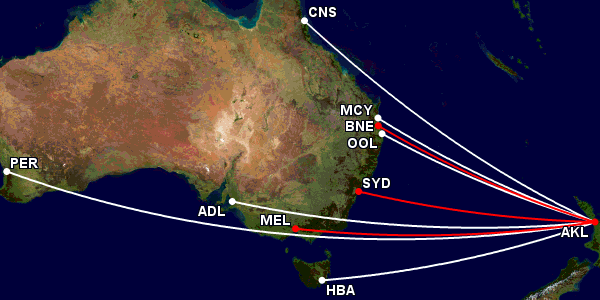 The carrier will also operate a "Points Plane" promotion on 16 June for its loyalty program members. Every seat in both directions will be available as a Classic Reward on those flights. This includes trans-Tasman connecting flights from Brisbane and Melbourne to Auckland.
---
---
The Qantas service will compete against Air New Zealand's JFK route, but each only operates three days per week. With alternating service days passengers will have more flights to choose from, but still just one each day. It is also the longest route in the world operated by multiple airlines, and the fifth longest route by distance filed. San Francisco-Bangalore, theoretically served by Air India and United Airlines previously held that title, though United continues to delay its launch to Bangalore.
The move also comes against news from Air New Zealand that delivery of its newest 787s will be slightly delayed, reducing its capability to expand into longer-haul markets like the US.
---
A favor to ask while you're here...
Did you enjoy the content? Or learn something useful? Or generally just think this is the type of story you'd like to see more of? Consider supporting the site through a donation (any amount helps). It helps keep me independent and avoiding the credit card schlock.
---