The financials are, expectedly, not great for Qantas. But with the carrier's latest earnings report it also expressed optimism in the reopening of international markets later this year. And, potentially, a return of the A380 to service sooner than expected.
We've had to make a lot of big and difficult structural changes to deal with this crisis, and that phase is mostly behind us. As a result we're geared to recover quickly, in-line with a national vaccine rollout that is speeding up.

– Qantas CEO Alan Joyce
---
---
Restart of international routes
The Australian government set a target of 80% vaccination rate for reopening the country to international arrivals. Qantas CEO Alan Joyce expects to hit that target by mid-December. And when that happens, the company intends to quickly ramp up service.
Some people might say we're being too optimistic, but based on the pace of the vaccine rollout, this is within reach and we want to make sure we're ready.

– Joyce
Initial target markets include Singapore, the United States, Japan, the United Kingdom and Canada. Flights would operate on 787s and A330s as demand builds. The carrier also expects to serve Fiji with single-aisle aircraft.
Joyce also suggests that non-stop service to the UK will be in high demand. Given UK arrival rules around transit airports this makes sense. But Western Australia currently has more conservative border rules than can support the route.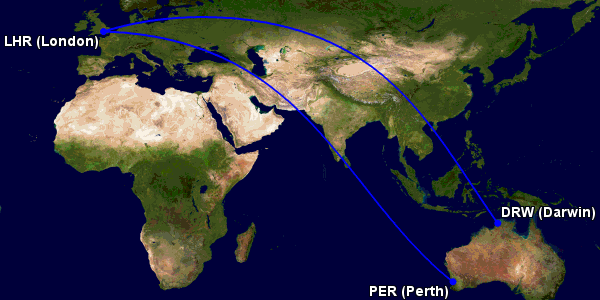 The carrier may use Darwin as an alternate transit point for the service to ensure it can deliver passengers between the two countries.
Less clear is whether the demand for the nonstop service will remain and extend to the planned Project Sunrise nonstops from Sydney, but the company is keen to keep it moving forward.
---
---
The A380 coming back sooner than planned
Qantas expects five of its A380s to return to service from November 2022. It intends to operate Sydney-Los Angeles and Sydney-Singapore-London with the larger planes. The company believes they are the correct aircraft when demand is high. If the vaccination rates continue to improve that should happen by late next year.
Another five A380s are expected to return to service by early 2024 under the revised schedule. All ten in service will have the new interiors, and Joyce believes the type has a long future with the company. But two of the A380s will not be updated nor return to service.
A330s move from domestic to international
Qantas wants the A330-200 fleet to serve longer routes in the near future. Previously dedicated to domestic and trans-Tasman routes, the planes could very soon be flying trans-Pacific, including markets such as Brisbane to Los Angeles or San Francisco.
This transition will require technical updates from Airbus to extend the range. It likely will also require installation of crew rest bunks to meet contractual and regulatory requirements.
These planes also carry an in-flight WiFi connectivity solution, something the other TPAC aircraft are missing. Alas, because of satellite coverage limitations the routes across the Pacific would be out of range of the Ka-band satellites that system uses.
That should change in a few years when the ViaSat-3 Pacific satellite launches, but no guarantee these planes will still be serving the routes at that time.
Absurdly high loyalty numbers
One bright spot for Qantas during the past year is the performance of its loyalty program. Nearly every measure reported improved numbers.
Redemption opportunities in the air were obviously limited as flight operations were trimmed. But the company still reported a 30% increase in redemptions on domestic routes the first half of 2021 compared to the before times.
Credit card-related earning returned to prior levels in the most recent quarter, and more than a half million members participated in the company's new partnership with bp Australia.
Moreover, redemptions via Qantas Wine and the Qantas Store hit record levels, in line with broader consumer trends. People are still spending, and see their Qantas points as a viable currency, even if they cannot fly.
Total membership in the program increased by almost 200,000 to reach 13.6 million.
---
A favor to ask while you're here...
Did you enjoy the content? Or learn something useful? Or generally just think this is the type of story you'd like to see more of? Consider supporting the site through a donation (any amount helps). It helps keep me independent and avoiding the credit card schlock.
---