The airBaltic club loyalty program now reaches almost everywhere in the world. Thanks to a new partnership with Air France and KLM, members can both earn and redeem points for travels with the two larger airlines. Though, like with most such deals, there are some notable limitations.
We are delighted that our loyalty programs continue to expand and offer even more, especially now, in a strong cooperation with the largest European airline group – KLM Royal Dutch Airlines and Air France. The opportunity to use loyalty benefits, covering the worldwide travel network from hubs in Amsterdam and Paris to more than 300 destinations, makes the airBaltic Club membership very desirable. Thus, we hope that soon more and more new members will join and use its advantages.

– Wolfgang Reuss, SVP Network Management of airBaltic
---
---
Earning points
On the earning side, passengers must be flying on an airBaltic code, operated by Air France or KLM. This dramatically limits the earnings potential for members. At the same time, however, these flights previously did not earn at all, so that's still a step forward.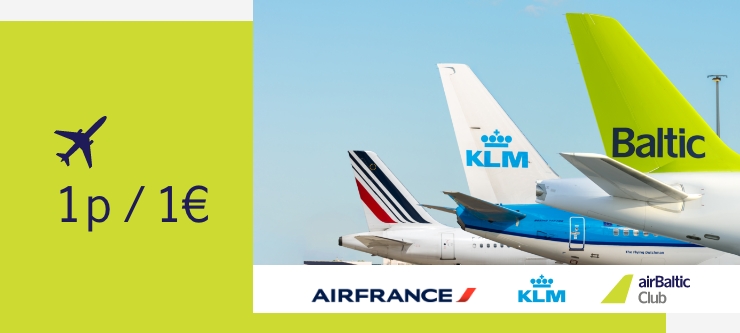 As with trips on flights operated by airBaltic, earning is at one point per euro spent on the trip.
---
---
Redeeming points
Passengers can redeem points on any nonstop Air France or KLM-operated flight from their hubs in Paris or Amsterdam. The benefit is clearly designed to benefit passengers who already are using airBaltic to connect into the partner global network for revenue flights as well.
Redemptions are available in both economy and business class. Air France continues to restrict first class awards to only its elite members. But, on the plus side, the award rates are fixed.
Then again, comparing to some other options for redeeming on AF/KL metal, maybe the fixed pricing is not so great.
Perhaps most challenging is that airBaltic does not provide a way for travelers to check for award space. The redemption process involves filling out a web form and waiting to hear back if there is space and what the pricing will be with taxes and fees included. This approach rarely works well for members of a program.
---
It is also worth noting that this earn and burn plan continues to grow the existing version of the loyalty program, despite promises from the company of a new Web3 version on the horizon. Timing on that effort, however, remains unclear. Prior target dates have slipped and the company has not shared a revised timeline. 
---
A favor to ask while you're here...
Did you enjoy the content? Or learn something useful? Or generally just think this is the type of story you'd like to see more of? Consider supporting the site through a donation (any amount helps). It helps keep me independent and avoiding the credit card schlock.
---