JetBlue's international route network virtually disappeared as a result of the COVID-19 pandemic. Rapidly shifting entry requirements and limited demand forced dozens of markets to close. Headed into June, however, the company sees some signs of optimism and opportunity as it anticipates reopening 13 destinations.
Boosting the international markets for JetBlue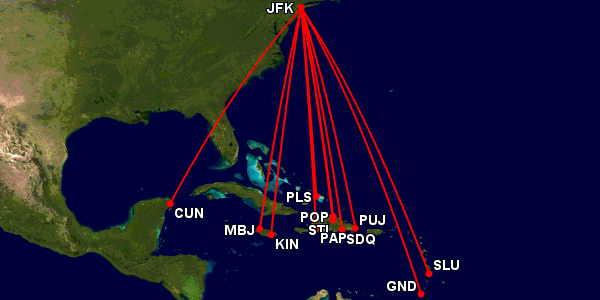 The hometown hub of JFK Airport will see the most markets added, with Kingston and Montego Bay, Jamaica; Santiago, Punta Cana, Puerto Plata, and Santo Domingo, Dominican Republic; Cancun, Mexico; Port-au-Prince, Haiti; Providenciales, Turks & Caicos; St. Lucia; and Grenada returning to the market.
---
---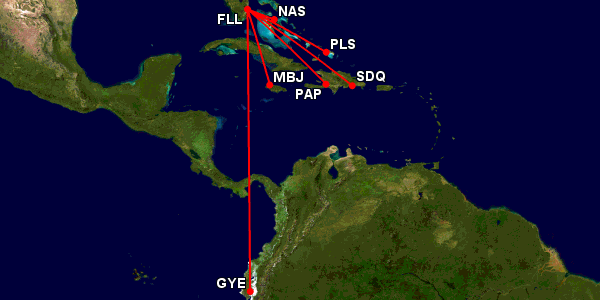 Fort Lauderdale anticipates a service return to Guayaquil, Ecuador and Nassau, Bahamas. Montego Bay, Providenciales, Port-au-Prince, and Santo Domingo are also on tap for the carrier's main Florida hub.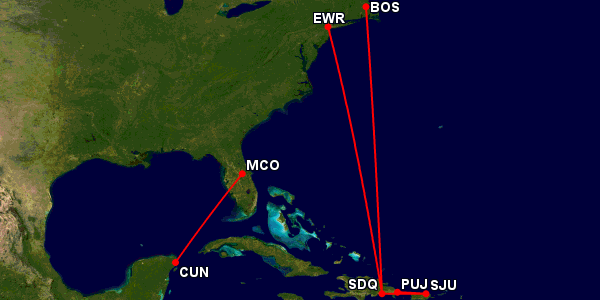 Orlando gets reconnected to Cancun under the new plan while Newark and Boston pick up Santo Domingo. San Juan also gets Punta Cana added back.
Details on frequencies or specific start dates for the routes were not included in the memo. The company is also very clear that the plans are based on changes to entry requirements at the destinations, changes that may not come to fruition as expected. But the hope is there, which is a positive sign.
---
---
Domestic cuts extended, shifted
While the international boost is a nice win the domestic network continues to see a mixed bag of recovery demand. July 1, 2020 will bring the return of nine markets while another seven remain suspended at least through July owing to weaker passenger demand.
Puerto Rico service grows, with Aguadilla and Ponce both returning to the map. Chicago, Dallas/Ft. Worth, Houston, Minneapolis/St. Paul, Philadelphia, Portland (PDX) and Providence are all coming back in the first tranche. Baltimore, Burbank, Newburgh/Stewart, LaGuardia, Ontario, San Jose (SJC) and Westchester/White Plains are all in the second category.
These Blue Cities won't see service until at least August based on the current network forecast.
JetBlue also anticipates delaying the opening of Martha's Vineyard, Nantucket and Hyannis service. The first two will not launch until 1 July while the last not until 1 August, according to the note.
JetBlue is also awaiting a final determination from the Department of Transportation to suspend service at Worcester, Albuquerque, Palm Springs, Sacramento and Sarasota through 30 September under the CARES Act guidelines. Those cities were tentatively approved last Friday.
The news was shared with crewmembers this afternoon and a copy of the notice was reviewed by PaxEx.Aero.
More on CARES Act routes and and the airlines affected
---
A favor to ask while you're here...
Did you enjoy the content? Or learn something useful? Or generally just think this is the type of story you'd like to see more of? Consider supporting the site through a donation (any amount helps). It helps keep me independent and avoiding the credit card schlock.
---