With nearly all of its requested exemptions rejected, Frontier Airlines faces a harsh new reality. It needs the CARES Act funding to avoid massive furloughs but many destinations in its route network no longer have much demand, if any. Like others, the carrier will adjust, combining multiple destinations on to a single flight from its hubs. These triangle/circle trips are key to reducing costs and Frontier is the latest player to join that party.
---
---
As the carrier's main hub it is no surprise that Denver will host many of these routes for Frontier. Six different pairings are planned for operation there, covering the upper midwest and Gulf coast regions. Some of the connecting hops are almost laughably short, such as 74 miles between Milwaukee and Madison, WI. Oklahoma City and Little Rock are more than 300 miles apart, however, making that one far more reasonable, at least based on the DOT's guidelines.
---
---
Orlando is the other main hub where things will look different for Frontier. The Central Florida airport will host four such routes, with three* of them offering intrastate connections at the far end.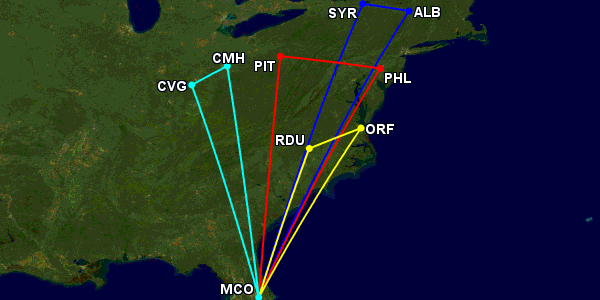 Three other interesting pairings also appear in the schedules, again all intrastate flights. Spokane and Seattle are tied together from Las Vegas. Orlando and Sarasota will operate as a pairing from/via Chicago. And, finally, Miami and West Palm Beach will soon have occasional air service spanning the 60 mile hop as Frontier connects those dots from Philadelphia.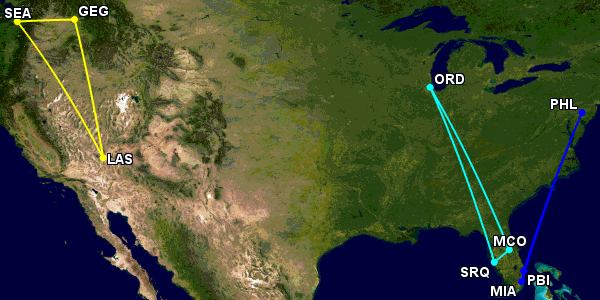 These reduced frequencies and new routings have Frontier pursuing a planning effort similar to Spirit Airlines. Both chose to consolidate multiple flights, including some laughably close by airports, to address the new requirements.
More than just money
These routings should help the airlines save money. Building the plans takes other factors into consideration as well. Crew scheduling will be a significant factor for Frontier as it aims to avoid overnights away from base. There are cost implications there, of course, but also health and safety concerns. With many states still enforcing various levels of lockdowns it is harder for crew to overnight at a remote location. Plus, the flights aren't going to be daily, leading to even longer sits isolated in a hotel room.
*Yes, CVG is really in Kentucky, so perhaps only half credit??
---
More on COVID-19 and the airlines affected
---
A favor to ask while you're here...
Did you enjoy the content? Or learn something useful? Or generally just think this is the type of story you'd like to see more of? Consider supporting the site through a donation (any amount helps). It helps keep me independent and avoiding the credit card schlock.
---