Sun Country will be permitted to collect its government funding while largely suspending service through 21 June 2020. United Airlines and Frontier Airlines will not be so lucky. The latest guidance from the US Department of Transportation released this morning shows that the Agency is using different standards for the different sized airlines in forming its policy.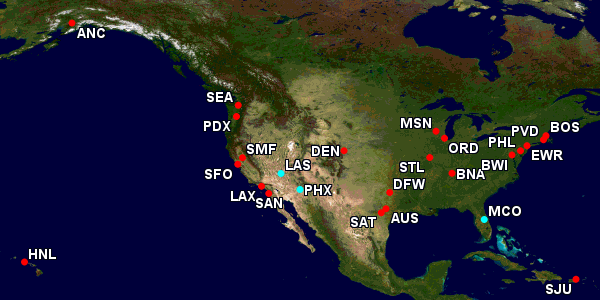 ---
---
Sun Country's win can be attributed to its business model and how it differs from other U/LCC carriers. While many others focus on serving smaller airports that legacy carriers avoid, Sun Country flies from its Minneapolis hub mostly to major cities. That means more competition when things are normal but also a win today as the larger hub destinations see sufficient service from other carriers such that Sun Country is now exempt from service. As the DOT explains:
Sun Country's request for exemption for Points 3 to 8, 10 to 13, 16, and 18-21 (large hubs) provides a well-justified and narrowly tailored basis for a small carrier. The Department finds that this limited exemption would be consistent with the objective of Order 2020-4-2, which is to require airlines receiving financial assistance under the CARES Act to continue serving the points on their network to the extent reasonable and practicable. In this case, our action exempting Sun Country from serving the 15 hubs shown above, which have abundant service, would relieve Sun Country from an undue economic and operational burden.
As a result, the carrier can suspend service to 15 destinations and delay starting of seasonal flights to another 6. All 21 of these routes will operate again beginning the week of 21 June 2020. Three more will see a reduction in the required flights from 3x weekly to just 1x. Only at Ft Myers, Florida was Sun Country denied its request.
---
---
Frontier Airlines denied
The Frontier route map includes many small markets and the DOT is not letting any service lapse at those airports. Only 3 of the 33 requested exceptions were granted to Frontier and those only through 10 June 2020. The common characteristic across those three is that they are larger "hub" airports: Charlotte, Boston, and Detroit.
There's also a chance the Frontier route map adjusts as the carrier complies with the new obligations. Much like how Alaska Airlines, Spirit Airlines and JetBlue have started serving multiple destinations on a single plane, tag flights, circle trips or milk run routings can be useful in these circumstances.
United Airlines comes up short
For United Airlines the net result is a mixed bag. The carrier received exemptions for non-Honolulu flying to Hawaii and will be able to hold off on starting some seasonal services. But other requests to consolidate flights at adjacent airports (e.g. Appleton and Green Bay, WI) were denied. Unless an airport pair was previously designated as part of a common metro area the DOT appears to be holding strong on this front.
Answers in the fine print
Reading the footnotes of the Frontier ruling delivers some useful explanation of how the DOT has arrived at its reasoning. A <10% carrier can be exempted from service to a "large hub" airport defined by US Law as having 1% or more of passenger boardings or airports "where the Department observes carriers connecting a high percentage of traffic." For purposes of CARES Act enforcement the airports covered are: Atlanta, Boston, Charlotte, Chicago, Dallas/Ft. Worth, Denver, Detroit, Honolulu, Houston, Las Vegas, Los Angeles, Miami, Minneapolis/St. Paul, Nashville, New York City, Orlando, Philadelphia, Phoenix, Portland, Salt Lake City, San Diego, San Francisco, Seattle, St. Louis, Tampa, and Washington, DC.
Yes, the airlines are expected to bear some economic burden as part of receiving the CARES Act grants, but if the flights operate to a large hub that can be waived. But the airlines cannot count the originating airport as the hub for exemption.
In finally spelling out these requirements the DOT also appears to be admitting a mistake in prior rulings. Or at least identifying inconsistencies. JetBlue, for example, requested exemptions at Portland, Houston, Dallas/Ft Worth, and Minneapolis/St Paul. All four of those are included in the DOT's listing of large airports. All four were denied in the DOT's ruling for the carrier. Similarly, Spirit Airlines requested exemptions at Charlotte, Minneapolis, New York City, Portland and San Francisco. Those requests were also all denied.
Presumably these two carriers can appeal the ruling based on the revised published guidance.
---
More on COVID-19 and the airlines affected
---
A favor to ask while you're here...
Did you enjoy the content? Or learn something useful? Or generally just think this is the type of story you'd like to see more of? Consider supporting the site through a donation (any amount helps). It helps keep me independent and avoiding the credit card schlock.
---