Passengers on United Airlines will be able to purchase tickets for the carrier's new Premium Plus cabin starting on Monday. Flights across 21 routes and 13 destinations will be the first to offer the additional class of service. Premium Plus flights begin on 30 March 2019, with some routes extending into May 2019 for the new service. Initial premium economy operations will center at the carrier's hubs in Newark, Washington-Dulles and San Francisco.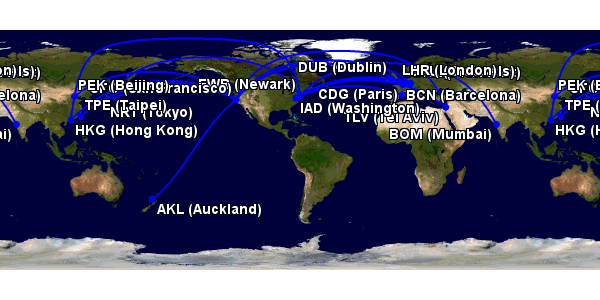 ---
---
Improved Product
Customers traveling in Premium Plus receive complimentary standard checked bags, as well as Premier Access check-in and priority boarding. Passengers will also be eligible for discounted access to United Clubs when ticketed in the premium economy cabin.
Once on board Premium Plus passengers get a seat with extra legroom and recline. Other amenities include multiple meals, including mid-flight snacks, complimentary alcoholic beverages and noise-reducing headphones. Every seat includes USB and 110V power outlets.
Loyalty considered, too!
In addition to the revenue bookings (fare classes are R/A/O) United's MileagePlus members will be able to book awards and upgrades with the new cabin. Award rates are not yet published but the company confirms that upgrades via points will be available from economy to premium economy and from Premium Plus to Polaris business class. Top tier elites will be able to upgrade from economy to either Premium Plus or Polaris with a single Global Premier Upgrade (GPU) certificate. United is also removing the minimum fare class restrictions for using GPUs when upgrading from economy to Premium Plus.
Passengers in Premium Plus will earn 150% PQMs and 1.5 PQS on all three fare classes.
---
---
It is unclear if the publishing of premium economy award prices will extend to United's many airline partners that also offer the extra class of service on board. That would be a huge win for passengers (pending the rates being reasonable, of course) if it comes to pass.
Fares are published now, though inventory is not yet available. This allows some insight into how United is pricing the product. Fares from Newark to Dublin start as low as $850 return (unclear if YQ is included) while San Francisco to Hong Kong starts at $1762. Expect the numbers to shift as United eases into the market and learns what passengers are willing to pay for the service. That said, many of the fares match those of joint venture partners (no surprise) so don't expect too much variation there.
---
A favor to ask while you're here...
Did you enjoy the content? Or learn something useful? Or generally just think this is the type of story you'd like to see more of? Consider supporting the site through a donation (any amount helps). It helps keep me independent and avoiding the credit card schlock.
---