JetBlue will further consolidate operations in April, taking advantage of the "metro area" designation included in the CARES Act DOT service obligation order that finalized this morning. The move will see service suspended at eight stations and even larger cuts to capacity than previously planned. There is some good news, however, as the carrier established an option for pushing passengers to other domestic carriers to accommodate the cancelations.
This will allow us to better match demand while also providing adequate rebooking options as part of our commitment to maintaining a critical level of service across our network for those who need to fly, and who need to fly now.
---
---
Five metro areas consolidate for JetBlue in April
The station consolidation covers five metro areas for JetBlue. Flights at Providence, RI will be suspended in favor of Boston. Flights at Burbank and Ontario, California will be covered by operations at LAX or Long Beach. San Jose passengers will be shifted to San Francisco (the Oakland station was previously slated to close) and BWI service shifts to DCA.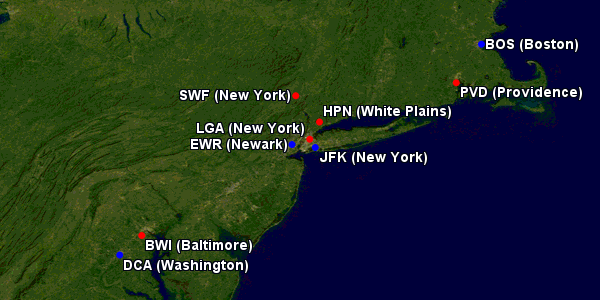 In the New York City area JetBlue will suspend its operations at LaGuardia, White Plains and Stewart. The market will remain served by flights at Newark and JFK.
These changes take effect on 15 April and are expected to last until 10 June.
---
---
Major capacity cuts
Combined with the suspension of some airports comes additional frequency reductions even compared to last week's major cuts. At that time, for example, JetBlue expected to have 60 daily JFK departures on the schedule and operate about 40, depending on demand. Now the carrier expects only 30 daily flights to be scheduled across Newark and JFK.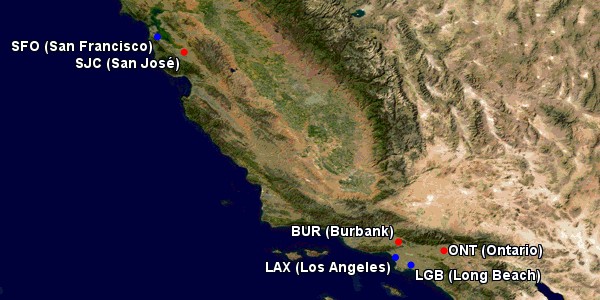 Boston similarly drops, with 28 daily departures planned on the schedule. The Los Angeles and Washington, DC operations plan for five daily trips while San Francisco expects only two.
In addition to the frequency cuts the carrier is doing its best to schedule crew pairings that do not require an overnight in New York City, hoping to help its inflight teams avoid the pandemic hotspot.
New protection options for passengers
One longstanding shortcoming of JetBlue's operation is its inability to rebook passengers on other airlines when it cancels flights. As part of today's schedule adjustment the carrier also informed employees of new reprotection options.
Effective immediately JetBlue has re-protect agreements in place with American Airlines and Alaska Airlines. These allow customer service reps to use those airlines' flights when a JetBlue option does not meet the passenger's need during irregular operations.
Moreover, this is not just a temporary solution. In an internal memo today the company indicated it "[expects] to use all efforts to extend these re-protect agreements once this crises passes."
That's a small silver lining for passengers coming out of this very messy situation.
---
---
More on COVID-19 and the airlines affected
---
A favor to ask while you're here...
Did you enjoy the content? Or learn something useful? Or generally just think this is the type of story you'd like to see more of? Consider supporting the site through a donation (any amount helps). It helps keep me independent and avoiding the credit card schlock.
---