UPDATE: Emirates has since walked back its cuts, keeping some routes open. Further details below.
Two more large airlines announced major cuts to their route networks this weekend. Emirates will suspend all passenger service while Turkish Airlines will cut nearly all its international destinations.
The world has literally gone into quarantine due to the COVID-19 outbreak. This is an unprecedented crisis situation in terms of breadth and scale: geographically, as well as from a health, social, and economic standpoint.

– HH Sheikh Ahmed bin Saeed Al Maktoum, Chairman and Chief Executive of Emirates Group
---
---
Emirates' transfer traffic evaporates
Emirates depends on traffic transferring at its Dubai hub to fill its fleet of A380 and 777 aircraft, hundreds at a time. With new border closings, quarantine rules and travel restrictions being added multiple times daily the ability to successfully deliver those passengers is vanishing. As a result the carrier will halt nearly all commercial passenger service as of 25 March.
The carrier did not provide a timeline for reinstating service, noting, "We will continue to watch the situation closely, and will reinstate our passenger services, as soon as feasible. These are unprecedented times for the airline & travel industry, but we will get through it with your support."
After initially announcing that all passenger service would be suspended, Emirates updated the policy. The new plan cites "requests from governments and customers to support the repatriation of travelers" as it plans to keep operations open to 13 countries "as long as borders remain open, and there is demand." All flights are expected to operate on the company's 777 fleet, with the A380s wholly grounded.
The countries included are the UK, Switzerland, Hong Kong, Thailand, Malaysia, Philippines, Japan, Singapore, South Korea, Australia, South Africa, USA, and Canada. The company did not indicate which destinations in each country will continue to see service. One report has Boston as the only US destination. Presumably other countries will see similarly trimmed operations.

As a global network airline, we find ourselves in a situation where we cannot viably operate passenger services until countries re-open their borders, and travel confidence returns. By Wednesday 25 March, although we will still operate cargo flights which remain busy, Emirates will have temporarily suspended all its passenger operations. We continue to watch the situation closely, and as soon as things allow, we will reinstate our services.

– HH Sheikh Ahmed bin Saeed Al Maktoum, Chairman and Chief Executive of Emirates Group
Just hours prior to this announcement Emirates was planning for a staged shutdown on many routes, but with roughly a third remaining in service and others returning in the coming months.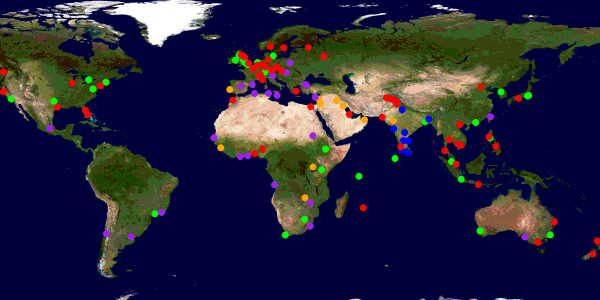 Like many other carriers Emirates is asking employees to consider unpaid leave while also enacting pay cuts. The majority of employees will see a 25-50% cut in basic salary, though other allowances (e.g. housing in Dubai) will continue to be paid. CEO HH Sheikh Ahmed bin Saeed Al Maktoum explains the move, "Rather than ask employees to leave the business, we chose to implement a temporary basic salary cut as we want to protect our workforce and keep our talented and skilled people, as much as possible. We want to avoid cutting jobs. When demand picks up again, we also want to be able to quickly ramp up and resume services for our customers."
---
---
Turkish Airlines now doesn't serve the most countries
Turkish Airlines takes pride in its position as providing service to the most countries of any airline. Much like Emirates or Qatar Airways many of these passengers are simply connecting via its hub at Istanbul. And, much like those (and most other) airlines the new global regulations are decimating demand. The carrier now says 85% of its operations are impacted across both domestic and international routes.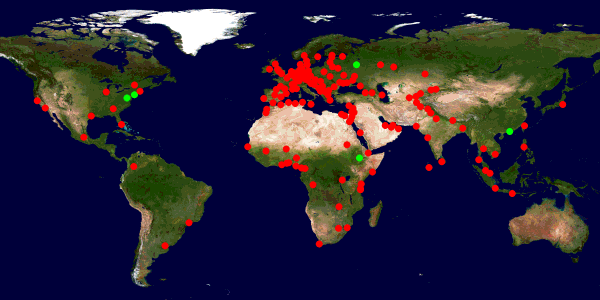 On the international front Turkish will reduce its operation to just five airports: Hong Kong; Addis Ababa; Moscow; New York City; and Washington, DC.
Like many airlines Turkish is facing cash flow pressures as passengers demand refunds for cancelled flights. The carrier's response, however, is very different from the others. While imploring passengers to consider a future travel credit rather than a refund Turkish is also offering an incentive for that behavior.
Local reports indicate that passengers are being given an option to earn 1,000 bonus miles for every 10 euro in ticket value if they do not refund the booking. This is a MASSIVE earning potential for consumers, assuming it proves accurate. A one-way business class flight from Istanbul to Los Angeles would typically earn just under 11,000 points. A consumer paying 2,500 euro for that ticket would, based on this report, earn an additional 250,000 points. This is so incredibly inflationary to the program balances that it is hard to believe its accuracy. But it is being reported as possible.
Even if the numbers are not entirely accurate on the earning bonus for choosing a voucher rather than refund, the concept is a compelling one. Especially as the airline will not need to pay out until the voucher is redeemed. It drives loyalty and customer goodwill while helping the airline preserve cash.
United Airlines reverses some cuts
Separately, as in indication of just how dynamic these changes are, United Airlines announced over the weekend that it would restore a handful of international routes after previously indicating none would operate in April.
---
For a (generally) up-to-date listing of airlines and their operational levels check out this spreadsheet maintained by PaxEx.Aero and other industry experts.
More on COVID-19 and the airlines affected
---
A favor to ask while you're here...
Did you enjoy the content? Or learn something useful? Or generally just think this is the type of story you'd like to see more of? Consider supporting the site through a donation (any amount helps). It helps keep me independent and avoiding the credit card schlock.
---