A week ago this level of cuts to airline route networks seemed beyond the pale. Now, it appears to be just the start. As more countries close their borders airlines find themselves with planes available but nowhere to fly to and no passengers who want to be on board. The result is massive cuts or, in a growing number of cases, simply halting operations completely.
---
---
Airlines suspending operations
One interesting quirk of airlines is that they generally run 24/7. Once they start up there are no breaks, not rest periods. Indeed, the entire flow of the front-line crew and the aircraft depend on keeping things moving so that the cycle never fails. But when governments halt all passenger flow, or when "demand for air travel is essentially non-existent" there is no point in keeping the planes flying. Several airlines made that decision within the past week.
La Compagnie flies only between France and the USA. With the US travel ban in place its operations no longer draw sufficient passengers to justify keeping its planes in the air. The carrier is suspending its Paris-Newark route (the only one currently operating) for a month and will delay resumption of the seasonal Nice-Newark route.
LOT faces government restrictions on operating flights to and from its home base in Poland. As a result the carrier is suspending all operations, including from its satellite hub in Budapest.
With the Latvian government restricting all international flights Air Baltic has little choice but to shut down operations. It will do so from 17 March to 14 April. The move includes flights from Lithuania and Estonia that do not touch Latvia, owing to the tight interconnection of an airline route network and the overall drop in demand.
CSA Czech Airlines will follow a similar plan between 16 March and 11 April 2020, citing "the declared state of emergency by the Government of the Czech Republic and a related ban on entry to the Czech Republic for all foreigners and a ban on travelling abroad for all Czech citizens."
SAS is the source of the "non-existent" quote above based in part on orders by the Danish and Norwegian governments. Perhaps most notable about the SAS news is that it does not have a target date for resumption of service. The carrier will run a very limited number of services over the next few days in hopes of repatriating customers abroad but does not expect to resume normal operations "until necessary prerequisites for commercial air traffic returns."
Royal Jordanianis similarly affected by a decree of the Jordanian government. The carrier will suspend operations from 17-31 March 2020.
Austrian Airlines announced Monday that it will halt operations from 18 March – 28 March, "in response to entry bans being imposed across the globe." In a unique twist, the carrier will keep one long-haul and one mid-haul aircraft in a ready state to handle evacuation/repatriation flights under guidance from the Austrian national government if required.
NOTE: Keeping track here didn't seem so useful for a variety of reasons. There's now a more active tracking document at https://docs.google.com/spreadsheets/d/1cRgtHZ4sRPj4BdcJa2y09SKaG8SRrLLtntHSegfmmoU/edit?usp=sharing.
---
---
Major route cuts at the US carriers
Delta Air Lines, United Airlines and American Airlines all announced major cuts to their international networks last week. But it was the American news late on Saturday that really drove home the impact of the falling demand.
American's route network disappears, and so might some planes
American's cuts are the most dramatic of the three. The carrier will, as of this week, operate only three long-haul routes. A week ago the number topped fifty. And that was after a number of Asia cuts were already implemented. Here's what the cuts look like on a map:
American also announced late last week that it expects to retire its 767s by May and its 757s later next year, both faster than previously planned. With these additional cuts, however, there is a very real chance that the retirement timings could change again.
When the new schedule takes effect American could choose to retire the 763 fleet and still have plenty of spare capacity to handle the thirty-ish daily flights that subfleet was allocated. There is a very real chance that American's 767s will cease service this week, not two months in the future. The company certainly does not need the planes in service any longer.
Delta's transatlantic cuts deepen
For Delta the cuts are not quite as deep, but the carrier is slashing massive portions of its international route map. Planes are flying off to the desert to be parked, indicating that the carrier does not expect these to be short-term changes.
In the transatlantic market the carrier added JFK-Dublin and Detroit-London to the cuts over the weekend, leaving behind a rather sparse network. Rather than 50+ transatlantic daily flights on the books as of early March, or the 90+ operated last year, the carrier will operate only five.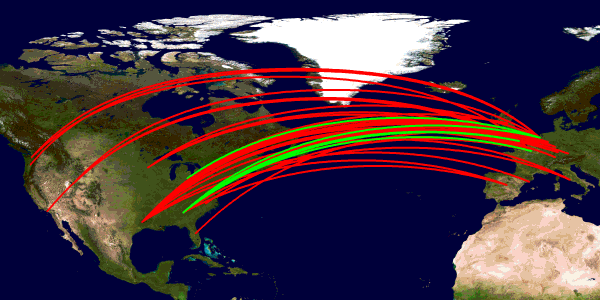 United's lack of details
While United Airlines shared many of the destination to be removed from the network it did not provide details on specific routes to be cut. Without that data it is harder to map, but the situation is equally dire, even as the carrier appears to have more routes and flights still on the schedule than its direct competitors. All subject to change, of course.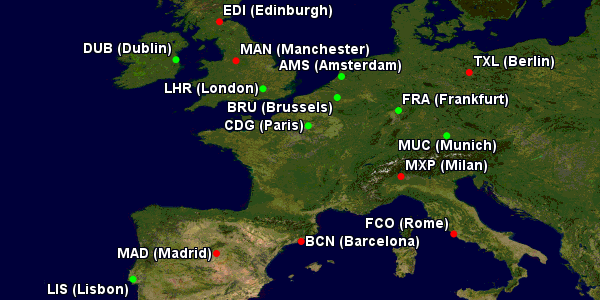 And late Sunday evening United announced it would fly only 50% of its previously planned capacity in April and May, with expectations of a 20-30% load factor. Those capacity cuts are expected to extend into the peak summer season as well.
More to come
As with the past few weeks it would seem that the details here are likely to change, and not in favor of increased capacity. More airlines are cutting and as nations further close their borders more airlines will make the rational, albeit unfortunate, choice to suspend operations.
Indeed, there is a very real chance that a similar order may come in the United States. It has been discussed, according to officials, though remains an unpalatable option for many reasons.
Just what the carriers will look like when they return to service is the real question now. And, of course, when that will come to pass.
More on COVID-19 and the airlines affected
---
A favor to ask while you're here...
Did you enjoy the content? Or learn something useful? Or generally just think this is the type of story you'd like to see more of? Consider supporting the site through a donation (any amount helps). It helps keep me independent and avoiding the credit card schlock.
---